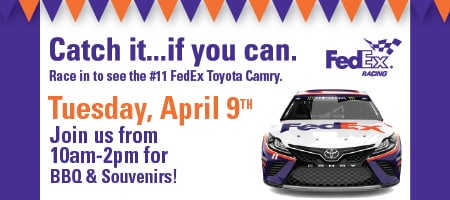 Feel the engine, feel the roar, come on out it's racing time! Join us on Tuesday April 9th from 10AM-2PM for your chance to experience all the power and magic of the #11 FedEx Toyota Camry. Not only will you be able to experience the beauty of this vehicle, you'll also be able to win tickets to see the #11 Toyota Camry in action at the Richmond Raceway! All you have to do to enter is come take one of our many new Toyota cars, trucks or SUVs for a test drive and you'll be entered to win.

And if you thought this event couldn't get any better than you're wrong, because we'll also have some of Fredericksburg's best BBQ and fun giveaways on site! You're not going to want to miss out on your chance to see the #11 FedEx Toyota Camry so make sure to stop by our store located at 3507 Jefferson Davis Highway on Tuesday April 9th from 10AM-2PM!
#11 Fedex Toyota Camry Stats
The #11 Toyota Camry is a beast that was built to race but it also has some of the same features that people love about the non-racecar version of the Toyota Camry. Reliability is the biggest factor that these two vehicles have in common. Whether you're on the road or on the racetrack you need to be able to rely on your car to go fast and keep you safe and the Toyota Camry does just that! In fact the #11 FedEx Toyota Camry's reliability is what helped propel it and Denny Hamlin (the driver) to success so many times.

Denny Hamlin is Virginia native as he was raised in Chesterfield, Virginia and has been driving the #11 FedEx Toyota Camry for an astonishing 14 seasons! He has 31 career Monster Energy NASCAR Cup Series (MENCS) wins, 30 MENCS Poles, is the 2016 Dayton 500 champion, has 17 career NASCAR XFinity series victories and 21 career NASCAR XFinitiy series poles. Denny and the #11 FedEx Toyota Camry a team to be reckoned with and we can't wait to see how they do through the rest of their season.