Stay Safe this Halloween and Come "Trunk N' Treat" With Us!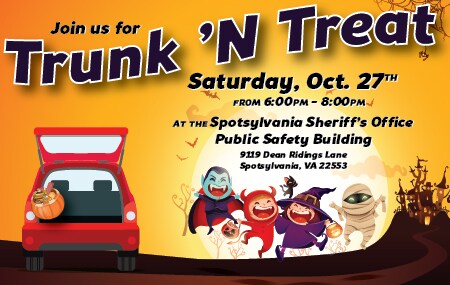 Halloween is right around the corner and we couldn't be more excited! There's nothing better than dressing up, going to Halloween parties and best of all, trick or treating. While all these Halloween festivities are tons of fun, they can also be dangerous which is why we've put together a list of ways to stay safe this Halloween!
1. Come join us for some Trunk N' Treat fun at the Public Safety Building on Saturday October 27th from 6-8PM!

This annual Trunk N' Treat event is put on by the Spotsylvania Sheriff's Office and is a fun and safer alternative to trick or treating. With Trunk N' Treat you and your kids won't have to worry about cars flying down dark neighborhood roads or getting lost! Another benefit to this amazing event is that the younger kids can still have a fun interactive trick or treating experience without having to worry about walking very far or being out too late.
We can't wait to take part in this spooktastic event and hope to see everyone dressed to the nines in their costumes!
Where: Spotsylvania Sheriff Office's Public Safety Building
9119 Dean Ridings Lane Spotsylvania, VA 22553
When: Saturday October 27th from 6-8PM
2.

Always have your kids travel in a group or with a buddy. Whether or not you go with your kids trick or treating, they should never be out on their own.
3. Make sure that you and/or your kids are visible to any cars that might be out on the roads.
4. Have your kids check in with you at a set time if they are going trick or treating without a parent or adult.
5. Make sure your kids have a way to contact you just in case of an emergency.
6. When your kids get back from trick or treating, check to make sure their candy hasn't been opened or contaminated before they eat it.
7. HAVE FUN! Halloween is all about dressing up, eating candy and having a great time. Whether it's you and your kids' first Halloween or their 10th we hope that this year is your best Halloween yet!