Stop by our showroom on Saturday November 10th for food, fun and furry friends!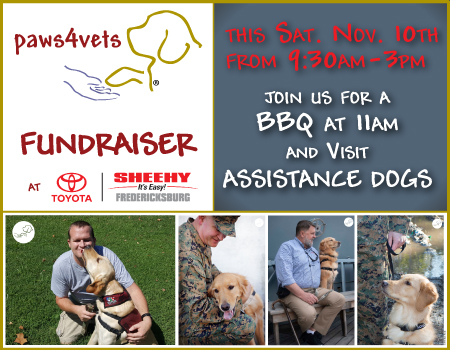 On Saturday November 10th we're hosting a fundraiser and BBQ in support of paws4vets. paws4ets is a fantastic organization that provides highly trained Assistance Dogs to veterans with PTSD, traumatic brain injuries, physical or neurological injuries, dissociative amnesia or other psychological diagnoses. They have been providing some of the world's most highly trained Assistance Dogs to veterans for the past 10 years. They do this with the help of, hundreds of volunteers, trained inmates at West Virginia Correction Centers, over 250 paws4vets trained certified and insured Assistance Dogs and the help of their community members.

Since most of the paws4vets clients have had suicidal thoughts and/or attempts these dogs perform many live saving actions like,
alerting to onset of stress/panic/anxiety symptoms

controlling, regulating and mitigating stress/panic/anxiety attacks

decreasing hyper vigilance

aiding with sleep

alerting to startle-reflex triggers

performing behavior interruption for flashbacks/nightmares/night terrors

retrieving and operating specific items

performing tasks for scheduled regulation

calling 911 and opening doors for emergency personnel

providing balance and mobility assistance and performing hearing alerts.
These dogs truly transform the lives of veterans and help them live a happier and successful life. We'd love for all members of our loyal community to come out, enjoy some BBQ, meet these dogs, learn more about the paws4vets program and help support this amazing organization.

When: Saturday November 10th from 9:30AM-3PM
BBQ: starts at 11AM
Where: Sheehy Toyota of Fredericksburg